Physical Therapy Program Celebrates 75 Years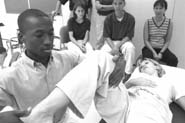 The physical therapy (PT) education program at Northwestern University's Feinberg School of Medicine is commemorating its 75th year with an alumni weekend on November 8–9, 2002. Several hundred alumni from all over the country are expected to attend the weekend, which will feature educational seminars, research posters, tours, and social activities including a gala celebration on Saturday evening.
Initiated in 1927, the Northwestern program is one of the oldest in the United States and the only one remaining of the eight originally accredited in 1928. A certificate in PT was offered until 1953, when graduates could earn a bachelor of science degree in PT. Northwestern began offering the master of physical therapy (MPT) degree in 1990. Beginning with the class that entered in fall 2001, graduates will earn the doctor of physical therapy (DPT) degree. Northwestern PT graduates work in 49 of the 50 states and 12 foreign countries.
For more information about the PT alumni weekend, contact Sally Edelsberg in the Department of Physical Therapy and Human Movement Sciences at s-edelsberg@northwestern.edu or 312/908-8239.