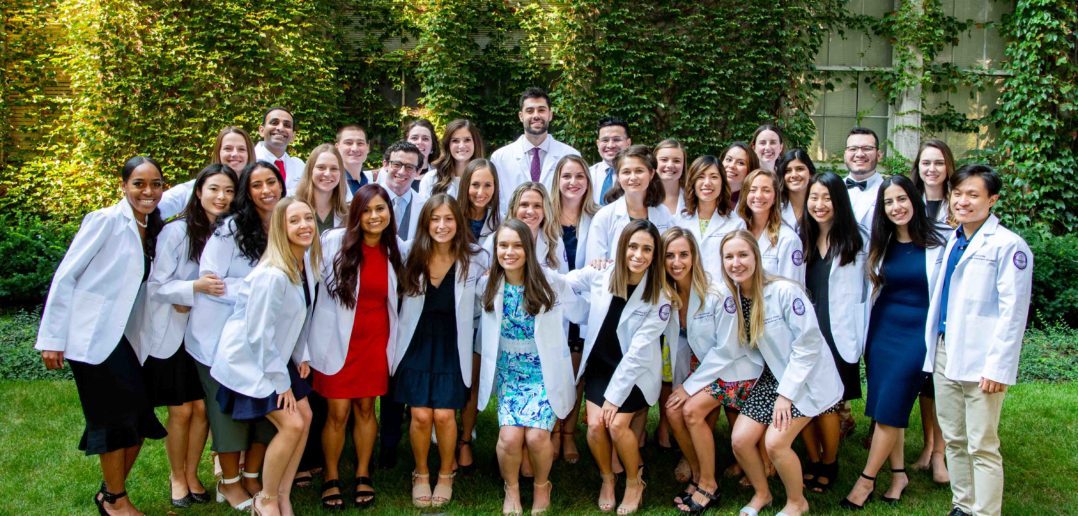 Becoming a physician assistant (PA) has been a long-awaited dream for first-year PA student Sara Marquis. Prior to attending Feinberg, Marquis worked in clinical research for eight years and earned her Master of Public Health degree at the University of Washington.
Maquis said what attracted her to Feinberg's PA program was its problem-based learning (PBL) curriculum, which gives students the opportunity to solve problems similar to what they will encounter in their future practice as PAs. More so, Marquis said Feinberg's engaged and collaborative student community is what cemented her decision.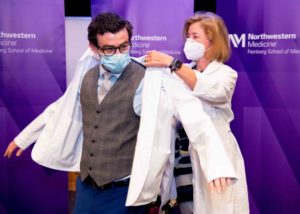 "As PA students, we will not be under the guidance of our program faculty forever. If everything works out, we will be out in the world responsible for the health and wellbeing of our patients in two short years and will need to develop a strong foundation of well-honed critical thinking skills relatively quickly to interpret a constantly shifting standard of care," Marquis said. "With all the 'practice' we are given in our didactic year, PBL felt like the best way I can ensure that I will be an effective provider after graduation."
On September 10, the 36 new students in Feinberg's Physician Assistant Program Class of 2023 received their white coats during an official ceremony held in the Hughes Auditorium.  
Second-year PA student Reanna Williams welcomed new students and faculty to the ceremony and Michael MacLean, PA-C, director of the PA Program, spoke to this year's incoming class about the significance of their white coats.
"The white coat ceremony signifies the beginning of the journey from student to clinician. This is an important symbolic transition, as certain expectations come with the donning of a white coat: accomplishment, medical knowledge, compassion, trust, caring and hope," MacLean said.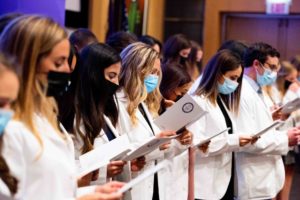 Jennifer Orozco, MMS, PA-C, DFAAPA, president of the American Academy of PAs and director of Advanced Practice Providers at Rush University Medical Center, presented this year's keynote address. Feinberg PA faculty then presented members of the Class of 2023 with their white coats and, to conclude the ceremony, the new class recited the Physician Assistant Student Oath.
Selected from a pool of 2,600 applicants, the Class of 2023 is a diverse and experienced group hailing from 14 states across the U.S. and Spain. One-third of this year's incoming class come from backgrounds underrepresented in medicine. Before attending Feinberg, Class of 2023 students logged an average of 5,600 patient care hours in more than two dozen clinical roles.
"I'm really enjoying learning about the science behind the human body and disease processes. I'm excited to be able to see patients and use that knowledge to help make a positive change in their lives," said first-year PA student Cyrus Ma.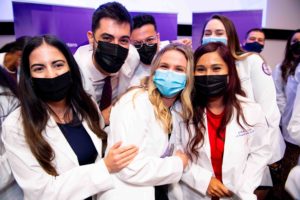 Ma, who is from Honolulu, HI, graduated from the University of Hawai'i at Manoa in 2019 with a major in biology. Prior to attending Feinberg, he worked as a certified nursing assistant. Ma is a first-generation college student and said he is grateful to continue his education at a university like Northwestern.
"I was interested in moving off island for school to experience something different and Northwestern's PA program was the most welcoming and seemed like a place I could envision myself at," Ma said.
First-year PA student Diego Arenas said is most excited to learn from his classmates as he begins his PA school journey.
"They are all brilliant individuals that have unique perspectives and medical knowledge. Not to mention, our class has become like my family away from home. I'm excited to continue to grow personally and academically with them these next few years," Arenas said.