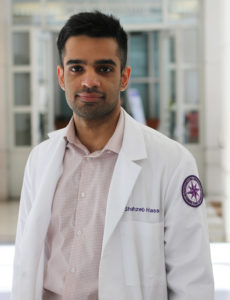 Like many medical students early in their career, Shahzeb Hassan has a broad range of medical interests. But during his first year at Feinberg, he put a particular focus on exploring preventive medicine.
This fall, Shahzeb Hassan founded a preventive medicine interest group to help students like him delve deeper into the field. "We are planning events, speakers and other programs to help students further engage in preventive medicine and provide opportunities to connect with mentors," said Hassan, now a rising second-year medical student and president of the interest group. Donald Lloyd-Jones, MD, ScM, chair and Eileen M. Foell Professor of Preventive Medicine and senior associate dean for Clinical and Translational Research, is the faculty advisor.
Hassan's interest in preventive medicine extends beyond Northwestern's campus to the national level: He recently co-authored a viewpoint piece, published in JAMA Internal Medicine, on the emerging field of precision preventive medicine, which aims to leverage large-scale data to improve the targeting of preventive measures.
The paper, led by Philip Greenland, MD, the Harry W. Dingman Professor of Cardiology and a professor of Preventive Medicine in the Division of Epidemiology, discussed current limitations in precision preventive medicine and challenges that must be addressed before the field can more broadly impact clinical practice.
In this Q&A, Hassan discusses his interest in preventive medicine and other activities at Feinberg:
Why did you choose Feinberg?
There are many, but one of the main reasons I chose Feinberg is because of the sense of community here. When I visited campus, all the of the students were friendly and I really liked the overall vibe. I am also interested in research, and so it was important to me that Feinberg is a research-intensive school. Chicago is a great city to live in, and Feinberg's location was another factor in my decision.
What were you doing prior to medical school?
After graduating from the University of Maryland, Baltimore County in three years with a bachelor's degree in biology, I spent two years conducting basic science research at the National Institutes of Health as part of the Postbaccalaureate Intramural Research Training Award (IRTA) program. I studied Gaucher disease, a rare genetic lysosomal storage disorder. Patients with this condition have very variable phenotypes, from skeletal defects to significant neurological symptoms. My research on Gaucher disease was published in the journals Molecular Genetics and Metabolism and Human Mutation, among others.
How did you co-write the piece on precision preventive medicine?
Preventive medicine is one of my interests, and so when I began medical school at Feinberg, I immediately reached out Dr. Greenland, who is a leader in the field. Dr. Greenland mentioned that he was planning to write this article, and he was really encouraging about me becoming involved.
In the piece, we discussed the value of personalized medicine today, and the recent big data approaches that have been attempting to achieve this goal. We acknowledged that such research is exciting, but also realized that some studies may be overreaching in their conclusions. This type of over-interpretation can be harmful, as it can possibly mislead medical providers and the public in regards to patient care.
Throughout the editing process, Dr. Greenland was an excellent mentor and guided me each step of the way. From the first to the final draft, he was very encouraging and made sure I understood the writing process well. From this amazing experience, my interest in research has grown even more, and I plan to continue research during my coming years at Feinberg.
What are your other research interests?
I'm currently working in a number of different areas, but my Area of Scholarly Concentration (AOSC) project is focused on prostate embolization. Under the mentorship of Riad Salem, MD, chief of Vascular Interventional Radiology in the Department of Radiology, I am studying the safety of prostate artery embolization (PAE) for patients with benign prostatic hyperplasia. I am currently helping with the data collection and analysis of the study.
What other activities are you involved in outside of research and classes?
I am president of the medical education interest group, as I'm also interested in academic medicine and incorporating teaching into my career in the future. I'm student chair of my medical student society, the Thompson Society, and I am also on the board of the Muslim Student Association.
In my free time, I enjoy running, working out and exploring Chicago.